Quality Management
At JMAC, we are supporting total quality management improvement targeted at "building a culture in which each and every employee instinctively takes actions that foresee and improve customer value".
When looking at organizational management, the most important three elements are "the movement of money", "the movement of information" and "the movement of people (skill)". At many organizations, management places great importance on the "the movement of money".
At JMAC, we emphasize "the movement of information" and the motivation for creating "value (product quality and service quality)". We then settle on the quality vision while clarifying the organization's reasons for existence (corporate philosophy), set measures for targets, and create a "degree of maturity model".
Through this process, we start by analyzing small components of work "i.e. the movement of people (skill)". This serves as the basis for the end goal of overall quality management optimization.
In order to build the desired corporate culture that actually works in practice, JMAC believes it is necessary to share the issues and concrete solutions through all the phases of strategy, systems, execution, and infrastructure.
Services
Consulting
As the consulting firm that contributed to the foundations of Lean/TPS and TPM®, we adopt the principles of Lean thinking in our consulting projects across all industries and processes.
Training
Our well-versed consultants offer training programs filled with know-how on problem solving for business challenges, leveraging their consultation experience.
See More
Locations
JMAC currently has five subsidiaries; two in China, and one in Thailand, South Korea, and Italy respectively.
We provide services in every country by dispatching consultants from any one of our global offices.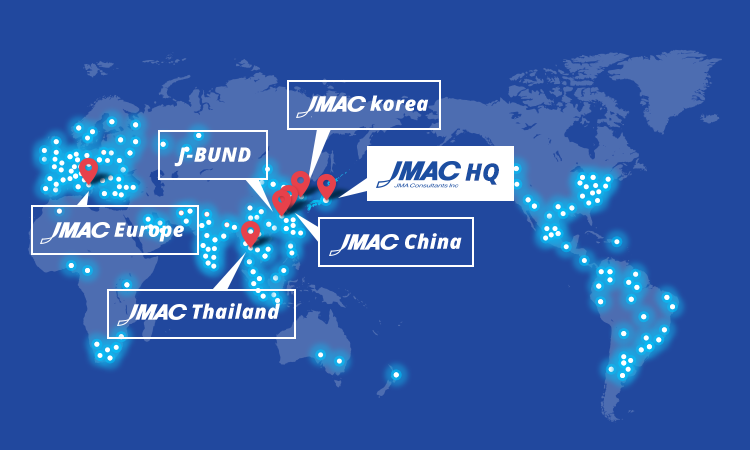 See More