Lean Manufacturing
Since our foundation in 1942, JMAC has been fortunate to have had the opportunity to assist many clients. In particular, much of our work has been done in support of key players within manufacturing industries. Over the years since foundation, JMAC has played an important role in the development of Lean. Based upon this long history of involvement with manufacturing industries, JMAC has developed its valuable knowledge into a Lean Manufacturing Consulting program.
At JMAC we position "production" in a critical section driving the overall system, centered around the processes from planning and R&D through to logistics and sales. That is to say, innovating production strategy, control systems and production systems, vitalizing corporate activities, improving manufacturing strength and improving business results. In implementing these company changes, JMAC does not just imitate simple successful examples. Each situation is different, and JMAC believes implementation must be carried out together with company personnel in order to achieve the desired results.
JMAC does much more than just survey, analyze and make a report. We create personal relationships of trust with members of the client side task force. This enables JMAC to discover the hidden intrinsic strengths of the company, understand these strengths and further extract latent abilities. In order to accomplish this, our first approach is to the people and organization, which are the backbone of a company. From there, JMAC measures, analyzes, proposes concrete changes to the production strategy, production system and control system and finally (and most importantly) implements them with the members of your organization.
This method may outwardly appear very simple, but in our more than 70 years of working with client partners, we understand from experience that this is absolutely the most effective method.
Services
Consulting
As the consulting firm that contributed to the foundations of Lean/TPS and TPM®, we adopt the principles of Lean thinking in our consulting projects across all industries and processes.
Training
Our well-versed consultants offer training programs filled with know-how on problem solving for business challenges, leveraging their consultation experience.
See More
Locations
JMAC currently has five subsidiaries; two in China, and one in Thailand, South Korea, and Italy respectively.
We provide services in every country by dispatching consultants from any one of our global offices.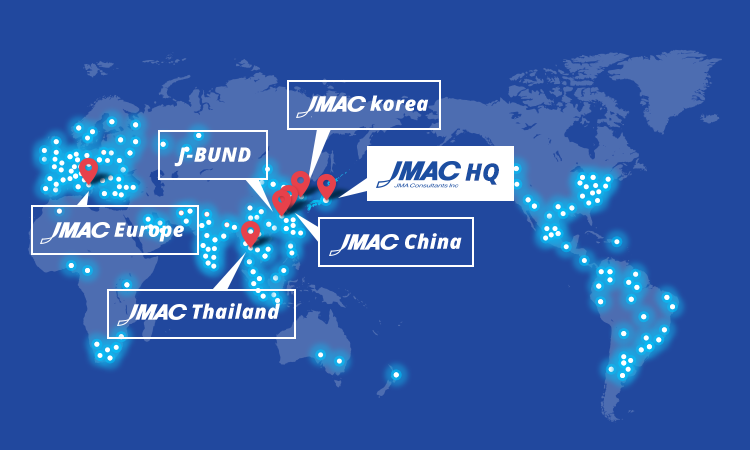 See More