Services
As the consulting firm that contributed to the foundations of Lean/TPS and TPM, we adopt the principles of Lean thinking in our consulting projects across all industries and processes.
Our well-versed consultants offer training programs filled with know-how on problem solving for business challenges, leveraging their consultation experience.
Consulting
An integrated consulting firm for all business challenges
JMAC has made meaningful contributions to the growth of Japanese industry. Today, JMAC provides a wide range of consulting services in production, R&D, service/sales, strategy, organizational development and HR to clients regardless of size, across industries, and geographic regions.
Providing the Right Choices for Our Clients
JMAC begins by developing a clear understanding of its client's back ground and objectives. Following from this, JMAC delves into a deep understanding of their client's organizational culture and corporate structure.
Then based on this understanding, JMAC develops innovative customized solutions and action plans.
This is how JMAC achieves the results that clients expect. JMAC makes this possible through combining highly skilled and experienced consultants with the expert knowledge accumulated within the firm.
Our Consulting Philosophy
JMAC adheres to three principles in its proven approach to business process innovation. First is Process Orientation. Our consultants know that truth is found on the shop floor – what the Japanese call "gemba". Whether an actual "production" floor, an office, or even in the boardroom, "gemba" is where your core business processes are practiced, and it's where our consultants spend the most time gathering information and effective improvement.
Second is Collaborative Team Approach. JMAC works alongside your people to create and implement effective solutions. That approach gives the client the benefits of both effective implementation and knowledge transfer.
The third principle is "No Waste/Lean". In a competitive business world, identifying and eliminating waste is vitally important. JMAC has been a leader in developing Lean Manufacturing concepts and has successfully implemented lean concepts in many companies.
Services
Consulting
As the consulting firm that contributed to the foundations of Lean/TPS and TPM®, we adopt the principles of Lean thinking in our consulting projects across all industries and processes.
Training
JMAC's view about training
JMAC provides training in Dojo style.
Dojo (Do= Way, path; Jo=place) means "the place where you practice the way".
Reminding of the place under the tree where it is believed that the Buddha received enlightenment, the so called "Dojo" is the place of meditation and training, in which monks and martial arts students practice the "rule". Therefore it can be said a "gym", in this case where a method gets learned and experienced.
We are aware of the essential role of human resources in improvement and innovation processes and we believe that training brings "value" when actually affecting organizational skills and behaviors that the company expects from one's own employees. In our view, effective training is closely linked to the practical application of the lessons learned. It is from application that you can understand and learn the methodology and its theoretical basis.
Therefore, the training offered by JMAC aims at supporting the change program being undertaken by companies and is a main part of our operations management consulting. For this reason we have developed an original approach to training, made up of unique solutions, highly interactive and completely based on the "LEARN BY DOING" concept.
Locations
JMAC currently has five subsidiaries; two in China, and one in Thailand, South Korea, and Italy respectively.
We provide services in every country by dispatching consultants from any one of our global offices.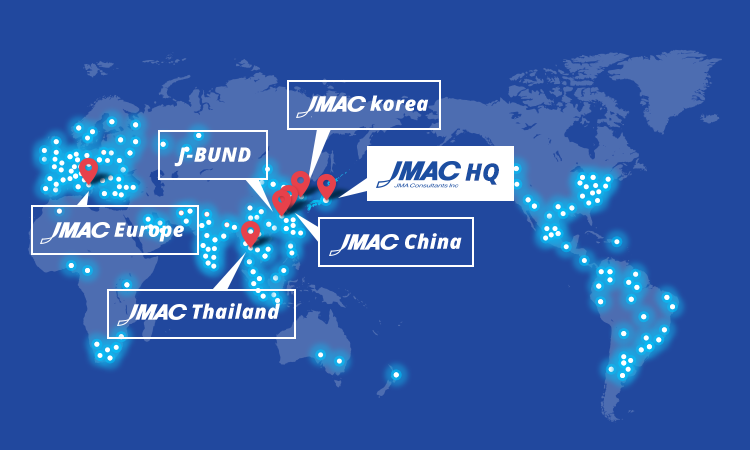 See More