Service & Sales Innovation
As an advocating organization for CS (Customer Satisfaction) management, JMAC has accumulated specialized techniques through our support for the promotion of corporate innovation starting from and based upon customer needs. In order to realize maximum customer value in your company, it is a prerequisite to optimize and harmonize all your contact channels (sales, retail, call-centre, after-sales). JMAC can help your organization strengthen its marketing activities by supporting strategy formulation, work process design and innovation, and organizational and personnel revitalization.
Sales Force Enhancement
Sales force enhancement is said to be a key issue in determining a corporate's competitiveness. However, this area is also said to be one of the most difficult area for any improvement. To ensure an improvement with actual output, it is necessary to optimize "Strategy" " Management" & "Skill" in sales department. JMAC works together with company sales personnel in the front line & provides appropriate solution to realize the optimization of the abovementioned aspects.
Service & Operation Quality Enhancement
Service differs from physical objects in character such as intangible (has no shapes), synchronism (production and consumption happen simultaneously), and inhomogeneity (depens on people, and unevenness happens easily). But, it has been managed by approaches used to manage quality of physical objects. As a result, quality control for service & service oriented operation is an issue.
In JMAC, we have expertise in quality enhancement specific to the characteristics of service and operation through our many years of experience in CS enhancement support to our clients.
Utilizing this expertise, JMAC provides unique solution to enhance overall service & operation quality covering from planning, designing to implementation, refine & review.
Call Center Innovation
Call center carries high expectation as direct contact point with valuable customers. However, if we look at the result, CS & response quality are not improving & cost reduction is also hard to materialize. Furthermore, as contrary to the high expectation as front line to collect voices from customers, call centers are having problem with high turnover rate & staff development, as they are exhausted by dairy operation, it is very difficult to eliminate the gap between expectation to contribute to business & actual operation.
From the viewpoints of CS enhancement, cost reduction & contribution to other departments, JMAC provides appropriate solutions in each phase from set up/consolidation to stable operation & further improvement to realize a more strategic call center
Dealer Process Improvement
Many companies are not aware of the importance of after-sales services. Actually, the service profitability gap is higher between stores than for the sales division and the service profitability significantly contributes to repurchase probability.
At worksites, employees are working overtime and doing their best, but this is not reflected in the results.
JMAC's Dealer Process Improvement (DPI) will:
Improve business processes (how work is carried out);
Integrate the large amount of information that is distributed across worksites or among staff;
Promote the standardization and sharing of best practices;
Enhance employee capabilities and customer service attitudes; and
Promote the diffusion of skills necessary for enhancing customer satisfaction accross the business organization
Companies will be able to achieve the following by implementing the JMAC dealer reform program (DPI):
Changes to the service quality offered to customers (enhanced customer services)
Change to a more profitable business structure (enhanced sales/profits)
Change in motivation of employees (enhanced ES)
Services
Consulting
As the consulting firm that contributed to the foundations of Lean/TPS and TPM®, we adopt the principles of Lean thinking in our consulting projects across all industries and processes.
Training
Our well-versed consultants offer training programs filled with know-how on problem solving for business challenges, leveraging their consultation experience.
See More
Locations
JMAC currently has five subsidiaries; two in China, and one in Thailand, South Korea, and Italy respectively.
We provide services in every country by dispatching consultants from any one of our global offices.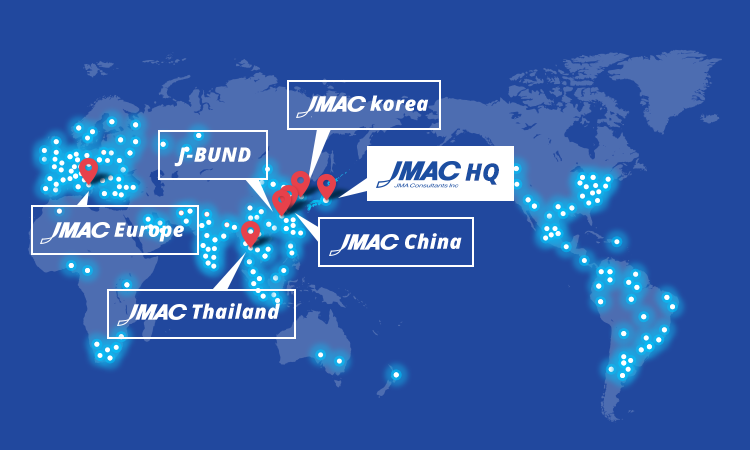 See More