Production Strategy, New Plant & Production System Design
Production Strategy
JMAC assesses the competitive value of existing manufacturing resources, the optimum positioning of domestic and overseas facilities, and the optimum allocation of in-house prodution versus outsourcing. We then assist your organization in selecting the most effective investment and in creating strategic scenario production plans.
From the reconstruction of the total production mechanism (including the necessity and viability of new capital investments), to overseas expansion, mergers and acquisitions, assessing suppliers, strengthening manufacturing capability, and the assessment of the current plant value, JMAC analyzes your current situation and develops strategic ideas and vision in a relatively short period of time.
Establishing Factories with High Levels of Both Productivity and Innovation
In a highly unstable business environment, in order to secure competitive superiority, speed in product innovation and agility to transform your production system are necessary. In this dynamic environment, the new factory construction and production system innovation consulting support from JMAC delivers a tactfully-executed program where both high productivity and innovation are realized.
Consulting Characteristics
Covering all of the practical work involved in building new factories.
JMAC assists in the wide range of project work involved in the construction of new factories and the innovation of production systems.
Delivering expertize in production system design.
JMAC delivers production system design and operation know-how developed from 70 years of genba kaizen consulting.
Practicing reliable project management.
JMAC directly assists with custom support including detailed schedule management, budget control, labor planning, recruitment and training, and new procurement.
Seeking the necessary resources for your organization.
JMAC assists in information sharing and provider selection utilizing the JMA Group client network for your procurement needs regarding design, construction and equipment.
Realizing the quick launch of production systems.
JMAC supports the feed forward-style problem solving approach and a launch-phase rapid problem solving approach to achieve fully functional production systems fast.
Services
Consulting
As the consulting firm that contributed to the foundations of Lean/TPS and TPM®, we adopt the principles of Lean thinking in our consulting projects across all industries and processes.
Training
Our well-versed consultants offer training programs filled with know-how on problem solving for business challenges, leveraging their consultation experience.
See More
Locations
JMAC currently has five subsidiaries; two in China, and one in Thailand, South Korea, and Italy respectively.
We provide services in every country by dispatching consultants from any one of our global offices.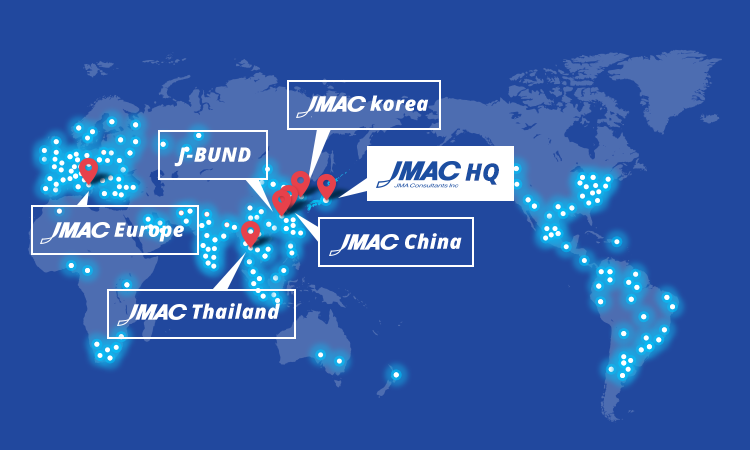 See More