Productivity Improvement & Cost Reduction
Productivity improvement
Improving productivity has always been one of the important issues faced by management. JMAC has helped numerous companies execute corporate strategy in a way that achieves maximum productivity improvement.
Based on principles of industrial engineering, JMAC verifies improvement in productivity from three aspects, Method (M), Performance (P), Utilization (U).
Method is a specific combination of layout and standard working conditions, materials, tools and motion patterns involved in accomplishing a given operation or task.
With method loss, operators are performing added-value operations along with auxiliary operations such as walking, watching, waiting etc.
Performance is the ratio of achievement of a standard method.
With performance loss, operators are working but their output quantity is reduced because of their low skill or poor effort.
Utilization is the operation ratio of labor force, machine and/or material.
With utilization loss, operators hope to work but cannot because of management-side problems.
After the verification, JMAC work hand-in-hand with clients to find and implement countermeasures or improvement ideas.
Cost Reduction
Many organizations are now considered to be in a certain matured stage of cost reduction engagement, which is one of the major issues for profit improvement. It is however, necessary to proceed with a more scientific and logical approach to cost reduction that looks at by item, "Reducing consumption (or number of man-hour)", and "Reducing unit cost (or labor rate). JMAC supports your organization pursue drastic reductions in cost using approaches applied to "Man, Machine, and Material".
Services
Consulting
As the consulting firm that contributed to the foundations of Lean/TPS and TPM®, we adopt the principles of Lean thinking in our consulting projects across all industries and processes.
Training
Our well-versed consultants offer training programs filled with know-how on problem solving for business challenges, leveraging their consultation experience.
See More
Locations
JMAC currently has five subsidiaries; two in China, and one in Thailand, South Korea, and Italy respectively.
We provide services in every country by dispatching consultants from any one of our global offices.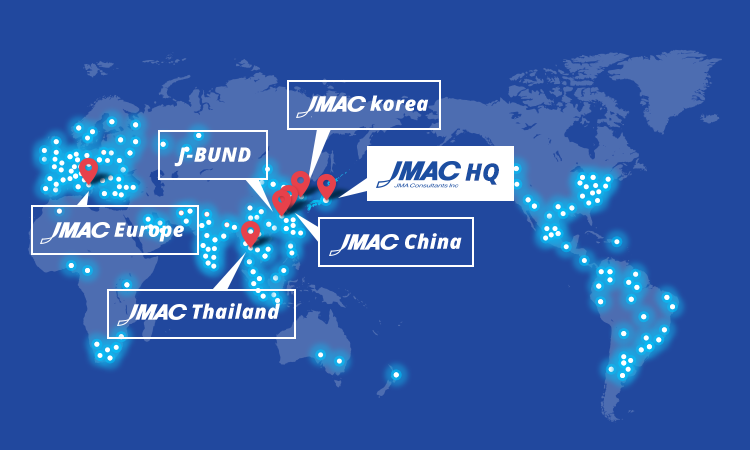 See More