Kart Factory
The Kart Factory by JMAC ® (*) is not a game, but a full path and progressive towards Lean Production application. It is not limited to aspects of configuration that help its realization, also addressing other key aspects of the transformation process.
Actually, one of the most frequent phenomenon in manufacturing processes is the high variability of performance.
To ensure efficiency in process improvement and sustainability of the performance achieved, it is necessary to influence behavior and stabilize the performance.
To influence behavior is essential to develop and disseminate standards and allow the analytical depth that are the basis for:
Performance reliability
Performance excellence
Continuous improvement: Problem Solving & Kaizen
Commitment
The entire training program is based on 3 principles of teaching:
Principle of experience
Learn by trying (experiential training)
Simulated but realistic learning environment
Principle of error
Learn by mistaking
Constructive reinterpretation of the errors committed
Principle of teamwork
Team learning
Learn from the exchange of ideas
*Kart Factory Program is provided in Italy and Japan.
Watch the latest videoclip:
(*) Kart Factory by JMAC ® is a registered trademark of JMAC Europe.
Services
Consulting
As the consulting firm that contributed to the foundations of Lean/TPS and TPM®, we adopt the principles of Lean thinking in our consulting projects across all industries and processes.
See More
Training
Our well-versed consultants offer training programs filled with know-how on problem solving for business challenges, leveraging their consultation experience.
Locations
JMAC currently has five subsidiaries; two in China, and one in Thailand, South Korea, and Italy respectively.
We provide services in every country by dispatching consultants from any one of our global offices.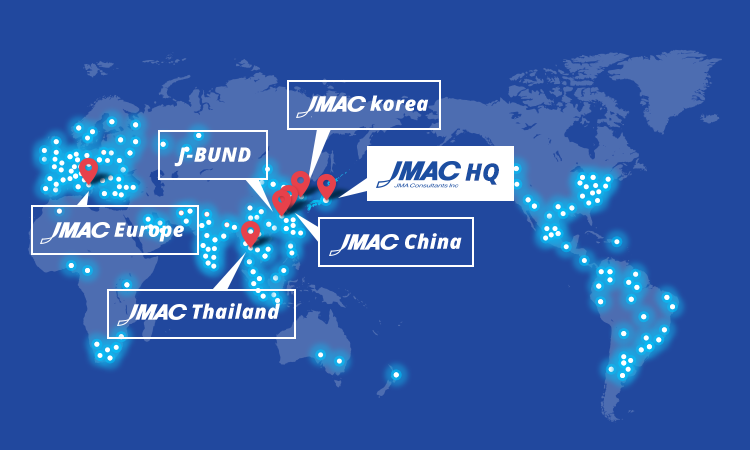 See More