P-Course
Training by Level
"The course was so interesting, but having it applied at our place will be a hard trial ...". How many times back from a training course you have heard words like these or had such thoughts?
The PCourse is a training program with strong practical value, focused on Industrial Engineering. The "P" in PCourse stands for "Production", but also "Productivity": departments as classrooms, their problems become the training focus in the field.
From the theoretical and practical sessions of training on the job through the understanding, analysis and the application of several industrial engineering principles and techniques, the results are a real and measurable reduction of waste (muda), i.e. of losses in production departments.
The PCourse was born in the 50s and was initially provided by Mr. S. Shingo of JMAC (JMA at the time) for Toyota Motor Corporation and other companies in Japan. As of today hundreds of PCourse have been paid by JMAC all over the world, including Europe, for plenty of companies.
The PCourse caters to all manufacturing companies, proposing methods, techniques and indicators applicable to labor-intensive production systems (manual assembly) as well as to capital intensive (equipment process based) productions. The curriculum involves a combination of theoretical sessions (classroom) and practical training in the shop-floor, to ensure effective learning with immediate application of the contents by the teams of attendants, who measure the results and any related benefits obtained in the field.
PCourses allow:
real growth of the Industrial Engineering skills in the company
(as the backbone of operational  excellence and Lean transformation)
the intergation of "know how" with the knowledge delivered in more "traditional" training programs
the application of operational work in teams
the achievement of results and measurable benefitsfor the company.
Services
Consulting
As the consulting firm that contributed to the foundations of Lean/TPS and TPM®, we adopt the principles of Lean thinking in our consulting projects across all industries and processes.
See More
Training
Our well-versed consultants offer training programs filled with know-how on problem solving for business challenges, leveraging their consultation experience.
Locations
JMAC currently has five subsidiaries; two in China, and one in Thailand, South Korea, and Italy respectively.
We provide services in every country by dispatching consultants from any one of our global offices.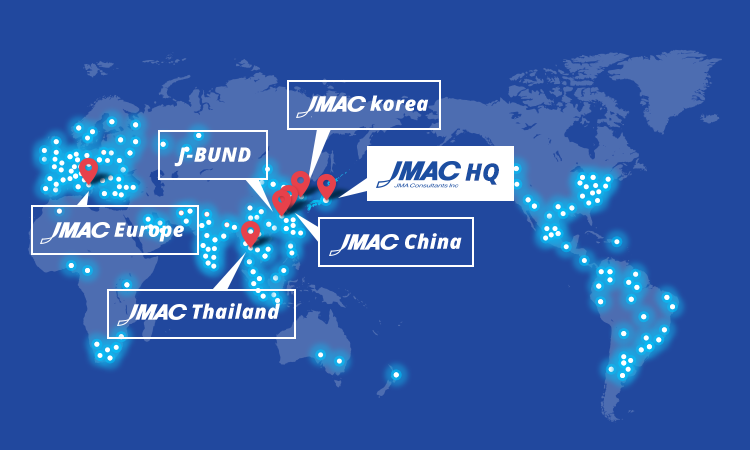 See More