Casappa Shanghai [2/2]
Changes begin to appear among the managers
Amid all this, changes began to appear little by little. "The initial stages of the project were really tough, but as the project progressed, managers began giving their opinions without hesitation," says Davide Bruschi, who became general manager in November 2013. Bruschi is Amaini's confidant, having shared good times and bad times with him for three years as his Operation Supervisor. "This was our biggest success. In time, the project began moving forward, with the Chinese managers, Italian top management, and JMAC working as one."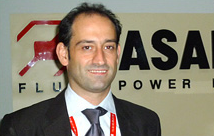 David Bruuschi General Manager Casappa S.p.A
As for how he established common goals for the managers in all divisions, Amaini explains, "I believed that if a manager had the same goal as somebody else, they would have something to share, and that would lead to cross-functional actions.
"Some of the goals or KPIs need to be done as a team. As one such action, we launched a Quality Guarantee Project. This required all the divisions involved to draft a Quality Manual, which can't be done unless divisions cooperate with each other. By having all the managers work on quality, which is the heart of business operations, it gave them the opportunity to develop an awareness of what a team is," Amaini says.
They would later take steps to increase net profit. To increase net profit, each division needs to make the optimal decisions. The sales division must increase sales, and manufacturing must cut costs. HR must hire good people at the optimal wages. "This project made all the managers understand their goals and results, and helped them understand the meaning of managing and surely delivering results," says Amaini.
Leadership demonstrated! Managers evolving
Another project involving the supply chain is also under way, and it seems that changes are evident here as well. "It's still in the first phase, but the leadership of one Chinese manager is enabling human resources and information to flow smoothly, not only among members of his own division, but across divisions as well, and moving the project forward. I think we are seeing the rise of Chinese managers who can demonstrate leadership while maintaining a mindset of working together," says Bruschi.
Amaini says that through this latest series of actions, "JMAC not only provided programs and the opportunity to improve efficiency as well as see results, but also trained Chinese managers to become in-house consultants. I feel that strong Chinese managers are being developed so the company will be able to run on its own even after the project ends." Bruschi also evaluated JMAC, saying, "JMAC has a vision not only of how to be efficient, but also what lies ahead, and what differentiates it the most from other companies is that it offered us management support as well."
In the middle: Hideki Nishioka
Hideki Nishioka, head of the JMAC Asia Center, explains that it was an important process. "Throughout the project, the Italian management team and the Chinese managers talked face to face. By talking what they think, there were occasional conflicts that came from the differences in culture and values, but I believe that those things were what improved the relationship of trust between the two sides." He also mentioned that the reform of the corporate culture began making progress when management realized that human resources weren't just resources but instead the most valuable asset of the company, and when they conveyed that idea throughout the company.
From the left:Andrea Amaini,Hideki Nishioka and David Bruuschi
Learning and improving from experience in China: Aiming for further globalization
While running a business in China is harder than he expected, Amaini says that the first step to success is to take full advantage of the power China has. "China is moving forward at an incredible pace. We mustn't stop that momentum. It's within that speed that we should set guidelines as best we can and maintain control. A management method that takes advantage of China's power is what I think we need." To do this, communication is an indispensable foundation. "Interpersonal relationships are difficult, even among people in the same country who speak the same language. A manager's skill is best tested when he is leading a team and managing people. By hiring people of similar ages, work experiences, and backgrounds, we were able to create a team more easily. And management's role is to disseminate Casappa's values to all employees," says Amaini.
Bruschi, who took over the reform, says, "The three years we spent together developing a great team was a time in my life that required professionalism the most. Casappa needed a streamlined process, but more than that, it needed a corporate philosophy that would change how the managers in all divisions and all employees thought."
Casappa continues to innovate to become a more global corporation. "There are so many things that we gained through the difficulties we had in China. Particularly important was a way of understanding people from a different culture. That has now become part of my DNA, my value and skill. I believe I have improved my ability to lead a team, to work, and to understand other people. I hope to take this experience of success in China to our headquarters and to Casappa offices around the world," says Amaini, eyeing a global expansion.
Bruschi, who took over his post, says, "Through this latest project with JMAC, local managers have developed a trusted relationship with the headquarters in Italy, and have formed a foundation from which employees can see the future, have hope, and work together. To solidify this, I believe I need to develop a cross-functional team. Don't settle for current conditions; keep aiming higher--that's Casappa's DNA." Due to the project in China, the Italian headquarters has launched a policy management project with the support of JMAC Europe. We look forward to Casappa's further developing its cross-functional operations worldwide.
Those whom we had interviews with
From the left: Angela Sun (HR & Admin Manager of Casappa Shanghai), Andrea Amaini and Davide Bruschi
Services
Consulting
As the consulting firm that contributed to the foundations of Lean/TPS and TPM®, we adopt the principles of Lean thinking in our consulting projects across all industries and processes.
Training
Our well-versed consultants offer training programs filled with know-how on problem solving for business challenges, leveraging their consultation experience.
See More